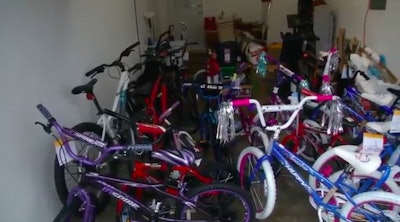 Over the last nine months, Officer Tony Messer of the South Charleston (WV) Police Department has built an online community of supporters. This time, they have raised money for Christmas gifts for kids in South Charleston.
"We raised almost $2,000 for bikes, and we just bought 25 bikes," Messer said.
The project has been months in the making for Messer who started his page at the beginning of the pandemic to do something fun during quarantine.
Messer's supporters are from all over the country, from a California Highway Patrol officer to a woman from Washington state. Messer told WCHSTV all the support makes a huge difference for the kids in his neighborhood.
"We have so many people who have a goal on here to do stuff for these kids that are not going to have a good Christmas. It's because of these people, all 51 people behind us, watching right now. It's because of them, it really is," Messer said.