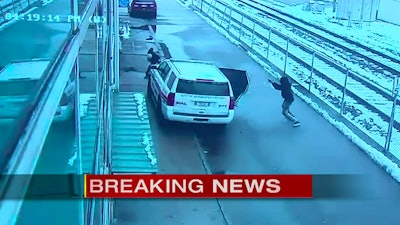 A Mckeesport, PA, officer was shot by a man in custody in the back of his patrol vehicle Sunday.
When Officer Gerasimos Athans opened the door of his cruiser to take out suspect Koby Francis, the 22-year-old man came out firing, police say. He then escaped after firing more shots at the officer.
Athans, 32, was hit in the neck and shoulder. He was taken to the hospital, and is expected to be released in the coming days. He is a four-year veteran of the department, WPXI reports.
According to investigators, Francis was served with a protection from abuse order at the McKeesport police station around 2:55 p.m. He reportedly violated that order about 30 minutes later.
He was located by police inside of a Ford Escape and taken into custody. Investigators said Francis was combative during the arrest. A gun was recovered from the vehicle.
While another officer remained on scene, Athans transported Francis back to the station.