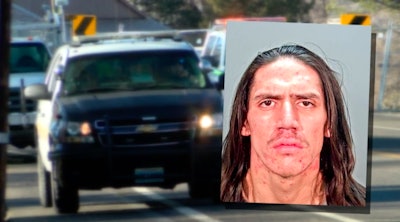 A Douglas County, NV, sheriff's deputy is recovering in a local hospital after he was shot several times during a traffic stop on Sunday night.
Deputies stopped a car after 11 p.m. Sunday. When they attempted to arrest the passenger, 22-year-old Nicholas Berreman — a known fugitive — he shot Sgt. John Lenz three times, officials say.
Sgt. John Lenz was shot twice in the chest and once in the face near the cheek. Police told News 4 that body armor stopped the shots to the chest.
Deputies shot Berreman in the hand. He received medical attention before he was taken to the Carson City Jail. Berreman was booked on multiple charges including battery with a deadly weapon on a protected person.