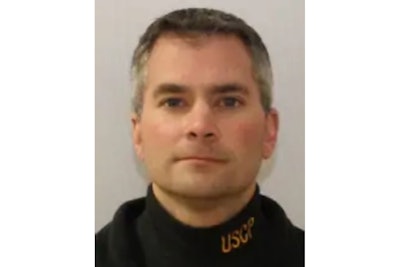 A U.S. Capitol Police officer died on Thursday night from injuries sustained "while physically engaging" rioters who descended on the U.S. Capitol the day before, according to the authorities.
The officer, Brian D. Sicknick, is the fourth member of the force to be killed in the line of duty since its founding two centuries ago. Thursday, hundreds of law enforcement officers from scores of agencies lined the streets to pay tribute to their fallen comrade.
The circumstances surrounding Mr. Sicknick's death were not immediately clear, and the Capitol Police said only that he had "passed away due to injuries sustained while on duty." At some point in the chaos, he was struck with a fire extinguisher, two law enforcement officials told the New York Times.
"He returned to his division office and collapsed," the Capitol Police said in the statement. "He was taken to a local hospital, where he succumbed to his injuries."
Sicknick, who joined the force in 2008, died at about 9:30 p.m. on Thursday, the Capitol Police said in a statement. The Washington police department's homicide branch is one of several law enforcement agencies involved in an investigation into his death and the overall circumstances of the violence at the Capitol.
Three of Congress's top security officials — Capitol Police Chief Steven A. Sund, House Sergeant at Arms Paul D. Irving and Senate Sergeant at Arms Michael C. Stenger — announced their resignations on Thursday.