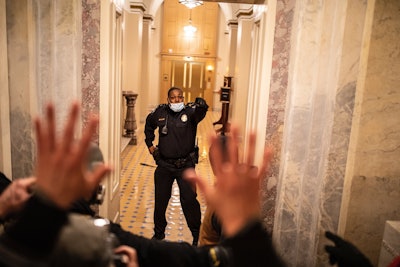 A bipartisan group of lawmakers have introduced a bill to award Capitol Police Officer Eugene Goodman the Congressional Gold Medal for his role in protecting lawmakers against the mob of rioters that breached the U.S. Capitol.
Reps. Nancy Mace (R-S.C.), Emanuel Cleaver (D-Mo.) and Charlie Crist (D-Fla.) introduced the measure, saying Goodman deserves Congress' highest civilian honor after he was captured in photos and videos leading rioters away from the entrance to the Senate chamber during the riot, the Hill reports.
"He's a hero!" Crist said in a statement. "While some will remember last Wednesday for the very worst in our country, the patriotism and heroics of Officer Eugene Goodman renew my faith and remind us all what truly makes the United States great."
Video posted to Twitter shows Goodman being chased by rioters as he heads toward the second floor of the Senate side of the Capitol. He is then seen looking through an empty doorway that leads to the Senate floor, where lawmakers and staff were sheltering.
Goodman, after briefly placing himself between the doorway and a rioter at the front of the group, then lured the mob away from the immediate entrance and around a corner to a back corridor where additional law enforcement confronted the crowd.