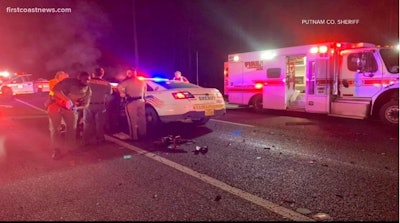 Two deputies with the Putnam County (FL) Sheriff's Office remain in critical condition after their patrol vehicles collided on State Route 20 Tuesday night.
According to the Florida Highway Patrol, the crash happened at about 7:42 p.m. in the west bound lane of SR 20.
In a press conference Wednesday, the Putnam County Sheriff's Office said both deputies were responding to a domestic violence call in the moments before the crash. The deputies received word the suspect had taken the victim in his car and was driving away from the home.
The sheriff's office told First Coast News the crash happened after the suspect's car passed them. It is unclear exactly how the crash happened and the Florida Highway Patrol is handling the investigation. There were no other vehicles involved in the crash.
As of Wednesday afternoon, both deputies are in critical, but stable, condition.
The sheriff's office said both deputies will have multiple surgeries this week.