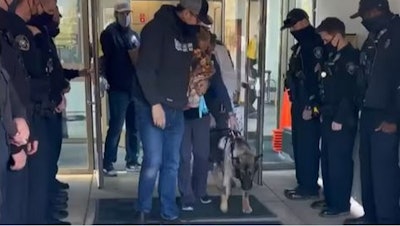 Thurston County, WA, Sheriff's police dog Arlo has returned home after surviving being shot during a police chase and then multiple surgeries by veterinarians in Oregon.
The chase happened Wednesday night as deputies pursued an armed driver along I-5 south into Grand Mound. In the moments after the chase ended, gunfire erupted leaving both the suspect and Arlo wounded, KOMO reports.
Arlo suffered a shot to his leg and another bullet that went into his shoulder and neck. He was rushed to a local veterinarian clinic where he had surgery to be stabilized, but it was discovered that one of the bullets was still lodged in Arlo near his spine.
Surgeons at Oregon State University removed the bullet from near his spine, fused his C-5, C-6 and C-7 Vertebrae together with screws and cement, Thurston County Sheriff's officials said. They also removed bone fragments from his spine and surrounding areas. Arlo now has 6 screws in his neck, but some bullet fragments had to be left behind that veterinarians say should not pose a threat but were too dangerous to reach.
Arlo spent a few days recuperating at the hospital, then was brought back home via police escort to Thurston County. He will not be returning to duty.