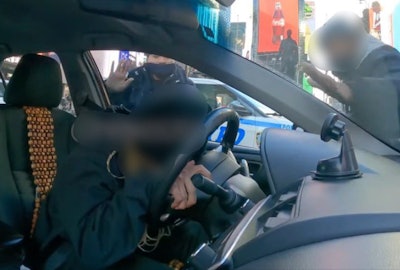 A YouTube prankster staged a medical emergency in Times Square, then filmed first responders breaking into his car to try and save him, police said — just to rack up thousands of views.
Zeeshan Saroya, known on YouTube as Prince Zee, is now facing charges of obstructing government administration, making a false report, disorderly conduct and other charges, the New York Daily News reports.
The 30-year-old man pretended to pass out with horn blaring at a stoplight, police said.
The video shows NYPD officers smashing the car windows when the door doesn't budge, and pulling out Saroya to check his vitals.
Medics were also dispatched to the scene.
The YouTuber who faked a medical emergency in @TimesSquareNYC to gain followers also gained a criminal record, as he's now been arrested & charged with the dangerous stunt that took NYC first responders away from other NYers in actual distress. pic.twitter.com/OdtkjC1dbu

— Commissioner Shea (@NYPDShea) January 29, 2021