A Balcones Heights (TX) Police sergeant who was shot and critically wounded Wednesday is reportedly improving. Balcones Heights Mayor Suzanne Deleon said that Sgt. Joey Sepulveda came out of surgery early Thursday and is "responsive."
The men suspected of shooting Sgt. Sepulveda are reportedly on the run. They have been identified as by Bexar County Sheriff Javier Salazar as Wilfredo Montemayor, 27, and his brother Sijifredo Montemayor, 30. Both are wanted for attempted capital murder, KSAT reports.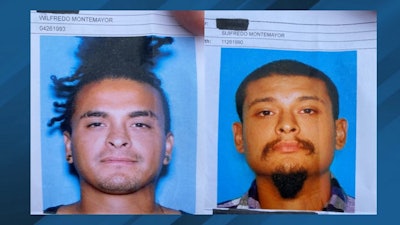 "Call us and turn yourself in," Sheriff Salazar said during Thursday's press conference. "You are not going to get away with this. We're not going to let you have one moment's rest until we get you into custody. Your best bet is to call us, turn yourselves in and surrender peacefully."
Sgt. Sepulveda was reportedly responding to a vehicle burglary when he was shot.
Fox29 reports Sheriff Salazar said it appears Sepulveda was talking with the suspects when he reached for his taser, moments later he was taking heavy gunfire.
Salazar said Sepulveda was hit multiple times while also firing back and running away before he fell.
Another officer on scene, Edgar Ortiz, also reportedly returned fire.
The suspects fled the scene in a dually truck, police say. The truck was later found abandoned.
Ortiz, ran to Sgt. Sepulveda, dragged him to a patrol unit and sped off to the hospital.
"As we understand it, that officer's quick thinking possibly saved that officer's life," Salazar said.
Ortiz served as a paramedic before joining the BHPD.