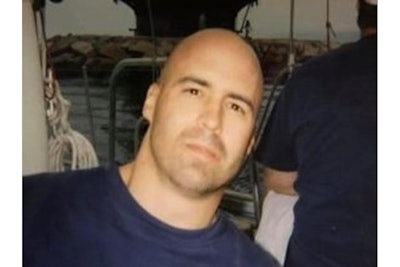 A retired Connecticut State Police trooper was killed early Sunday morning after he was reportedly punched by a man on the Las Vegas Strip.
Thomas Driscoll, 57, of Chicopee, Mass., was walking on a pedestrian bridge between the Cromwell Hotel & Casino and Bally's around 4:30 a.m. when he and a woman companion walked past a group of men. One of the men, later identified as Brandon Marcus Leath, made a comment about the two, then ran toward the pair and down a set of stairs as they rode an escalator down from the bridge, according to a police report.
Leath, 33, waited at the bottom of the escalator for Driscoll and the woman, then "set down his backpack and took a fighting stance," police said after reviewing evidence from surveillance cameras, KTNV reports.
Driscoll walked toward Leath, who threw one punch which knocked Driscoll to the ground on his back, police say.
Driscoll did not move after the punch, according to the report. He was transported to a hospital where he died one hour after the attack.
Leath fled the area. Police took him into custody near the Mirage Hotel. He later told police that he remembered being at the pedestrian bridge and being contacted by police but he "offered no explanation of the incident," WWLP reports.
Driscoll served 22 years with the Connecticut State Police.