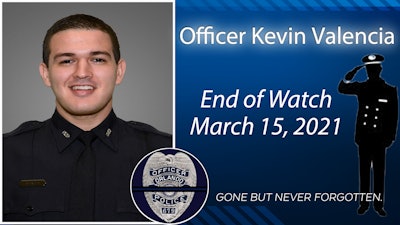 Orlando Police Officer Kevin Valencia has died from injuries he suffered during a standoff on June 11, 2018 when he was shot in the head, according to the Orlando Police Department.
"It is with deep regret and heartache that I inform you of the passing of Officer Kevin Valencia," Chief Orlando Rolon said in a statement Monday.
Police said Valencia was shot in the head when he responded to a domestic violence call.
Click2Orlando reports that after shooting Valencia, Gary Wayne Lindsey Jr., the man involved in the domestic violence call killed four young children and himself, according to investigators.
Valencia leaves behind his wife, Meghan, and their two young sons.