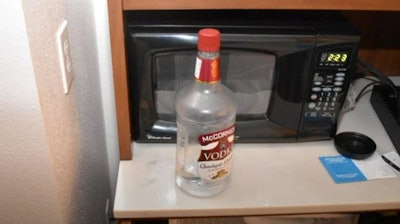 Former Oklahoma police officer Michael Nealey was found guilty of second degree murder Wednesday in the 2019 beating death of his superior, Mannford Police Chief Lucky Miller.
Nealey killed Miller in their Hilton hotel room in Pensacola, Fla. They traveled to Florida for a law enforcement conference.
Court documents indicate a man in a neighboring room heard a man's voice coming from the hotel room yelling "Stop it, Mike." The commotion was so loud that a couple in another room went to the front desk to request a room change, KFOR reports.
Deputies also interviewed a maintenance man who said he went to check on a noise complaint, knocking on the door several times, but no one answered. Once the maintenance man made it into the room, he told deputies Nealey was on top of Miller, who was laying on the floor.
Prosecutors said the murder was the result of an alcohol-fueled night on November 10, 2019. The state says the medical examiner determined Miller was beaten and strangled or suffocated to death, WEAR reports.
The medical examiner said Miller was internally decapitated, which would require the same force one would face in a car crash.
NEALEY TRIAL: 'Mr Nealey's blood alcohol concentration is not a defense for killing Lucky Miller', said prosecutor Trey Myers. A forensic toxicologist said both Miller & Nealey had BAC's at least 4 times the legal limit to drive. This vodka was found at the scene @weartv pic.twitter.com/yfYzSWlSaZ

— Renee Beninate (@reneebeninate) March 31, 2021
Throughout the 3-day trial one of the main questions was 'Why?'.
However, that was something the state and defense both could not answer.
"Only two people were in that room. One of them is dead and one of them is on trial," said prosecutor Trey Myers during closing arguments.
"It's impossible to get inside the mind of a man who was here for a law enforcement conference who has had half a gallon of vodka to drink and understand his thoughts," added Myers.
Sentencing is scheduled for April 29. Second degree murder carries a minimum sentence of 16 years and nine months in Florida. It can result in a life sentence.