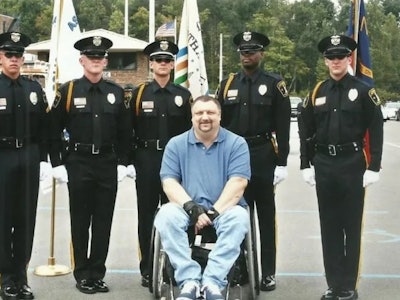 David Parde, a former Lexington (NC) Police Officer who was shot and paralyzed in the line of duty in May 1992, died April 17.
The community is flooding social media with their memories of the beloved officer whose career in law enforcement was cut short, Dispatch.com reports. At this time, Parde's cause of death is not known.
Parde's friend and retired Davidson County Sheriff's major Chris Coble wrote: "Rest In Peace my Brother. You are whole again. Love you. Until we meet again. Prayers for Julie and family. - Chris"
Parde and a rookie officer were dispatched to apartments on May 5, 1992, after a resident called 911 reporting that three teenagers were knocking on doors in the apartment complex pretending to be Domino's Pizza delivery employees. It was about 12:30 a.m., and the resident knew Domino's was not delivering pizzas at that time.
One of the officers asked Parde to turn around and look in one of the apartment's windows to see if a light was on. He was struck by a bullet. The bullet damaged Parde's left shoulder and left lung and caused irreparable damage to his spinal column, causing paralysis from his mid-chest down.
In connection to the shooting that left Parde paralyzed, the three teens — David Burrus, Ashley Clark and Adrian Woodberry — received convictions for assault with a deadly weapon, inflicting serious injury and were sentenced to prison. They all have been released.