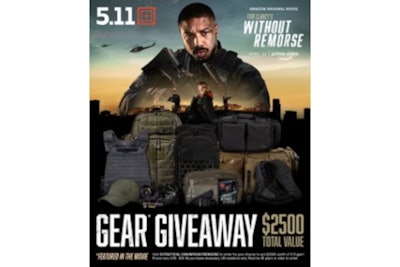 5.11, Inc., a global innovator of purpose-built apparel, footwear, and gear for law enforcement and military, has teamed up with Amazon Prime Video for a sweepstakes to commemorate the April 30 release of the film "Tom Clancy's Without Remorse" starring Michael B. Jordan. The sweepstakes will offer fans a chance to win a custom 5.11 prize package valued at more than $2,500.
Prime Video's "Without Remorse" is an action film adaptation of the Clancy novel of the same name. It's the explosive origin story of action hero John Clark, an elite Navy SEAL, who uncovers an international conspiracy while seeking justice for the murder of his pregnant wife. Clark (played by Jordan) is widely considered one of the most popular characters from Clancy's celebrated novels.
"This is an exciting program that portrays how professionals like Navy SEALs use our products in the field and gives fans a chance to win some great gear of their own," said 5.11's CMO, Debra Radcliff. "We're thankful of Amazon Prime Video for this collaboration and proud to be a part of another project that brings a Tom Clancy novel to life."
5.11 has a strong history of supporting Tom Clancy projects previously with video gaming giant, Ubisoft, on its launches of "Rainbow 6 Siege" (2015), "Ghost Recon Wildlands" (2016), and "Ghost Recon Breakpoint" (2019). In addition to cross-promotional marketing, 5.11's purpose-built products were featured and integrated into the customization of the characters of these games. Most recently, the brands expanded the partnership to include in-game character customization affecting play in the 2019 Ubisoft game launch of "Tom Clancy's The Division 2."
"5.11's long-standing track record of providing purpose-built apparel and gear to servicemen and women, as well as their unwavering support of the military, law enforcement and veteran community, made them an ideal fit for our "Without Remorse" activation," said Jen Verdick, head of partnerships and consumer events at Prime Video. "We are excited to have 5.11's support as we bring "Without Remorse" to fans across the globe."
To enter the sweepstakes, or to learn more, visit www.511tactical.com/withoutremorse from Monday, April 19, through Sunday, May 9. Products featured in the robust prize package include a series of 5.11's latest and most innovative technical packs, luggage, and vests, in addition to apparel, footwear and an array of multi-functional accessories from lighting to multitools as well as everyday carry items. No purchase necessary, multiple entries possible, must be 18 years or older and a U.S. resident to enter.