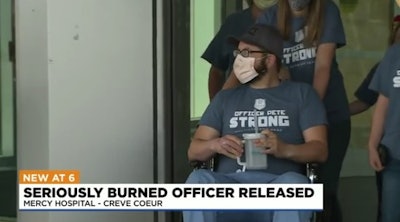 Ste. Genevieve police Officer Pete Unverferth, who was severely burned in a Molotov cocktail attack two weeks ago, was released from a St. Louis hospital Monday.
Unverferth was injured in mid-April when the explosive device was thrown at him while he responded to a disturbance call, KMOV reports.
The suspect in the case, Tyson Heise, 34, was charged with first degree assault and armed criminal action.