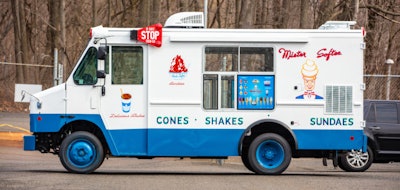 Philadelphia's police union gave out free soft-serve ice cream Friday in its campaign to help unseat the city's "soft-on-crime" district attorney.
The Fraternal Order of Police Lodge No. 5 posted up outside the DA's office with an ice cream truck and a billboard to give out Mister Softee soft serve as they once again railed against Larry Krasner and encouraged people to vote for his opponent, Carlos Vega, in the upcoming May 18 primary election, NBC reports.
"We are reminding residents about Larry Krasner's soft-on-crime policies that have made Philadelphia unsafe and dangerous," FOP President John McNesby said in a press release. "Krasner's failed social experiment is costing lives all across this city."
In a statement, a spokesperson for Krasner's campaign pointed out that he has received more than sixty endorsements from people and groups who "represent constituencies from all over this city." Krasner's campaign spokesperson went on to say that those who endorse him "speak for the community, not the powerful, and we're proud that today they are out working to better Philadelphia rather than serving ice cream and spending money on publicity stunts."