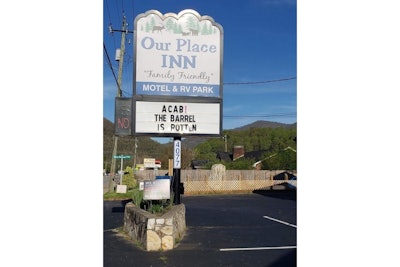 A motel and RV park in the North Carolina mountain resort town of Maggie Valley posted "ACAB!"—the anarchist slogan "all cops are bastards"--on it vacancy sign this week.
The message: "ACAB! The Barrel is Rotten" was posted days ago on a sign in front of the Our Place Inn, and later shared on its Facebook page, the Charlotte Observer reports.
Motel owners Cody and Kitty Currin told TV station WLOS the sign was their way of encouraging a community conversation of police reform in Maggie Valley. The town of about 1,700 people is 35 miles west of Asheville.