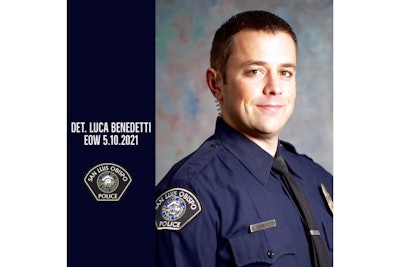 One San Luis Obispo, CA, detective was killed and another wounded while they served a knock and announce search warrant at an apartment Monday evening. The suspect is dead.
Police said at a Tuesday press conference that a team of six officers executed the search warrant over a stolen property case.
They knocked and identified themselves as officers. There was no response, according to police.
Officers reportedly waited more time for a response. They then breached the apartment and came immediately under fire from the suspect, who was described as "lying in wait" by police.
Detective Luca Benedetti, 37, was killed in the ambush. Detective Steve Orozco was wounded.
The suspect, Edward Zamora Giron, 37, was reportedly hit when officers returned fire as they retreated. Police say he was later found inside the apartment dead from an apparent self-inflicted gunshot wound.
Detective Orozco was treated and released at a local hospital.