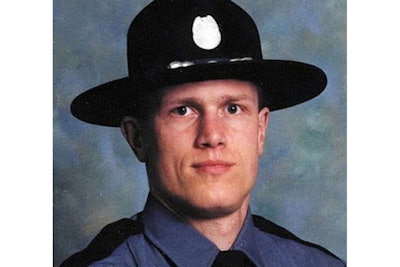 The Oregon State Police have announced the death of a retired sergeant who was seriously injured in the line of duty while helping a disabled motorist along Interstate 5 nearly two decades ago.
"Retired Sergeant John Burright passed away May 4, 2021, after a battle that started on September 4, 2001," state police officials said.
On that day in September 2001, a then 41-year-old Sgt. Burright stopped along I-5 to help a disabled motorist just north of the Linn/Marion County line.
He was doing a ride-along with his friend and mentee, Albany Police Officer Jason Hoerauf. Officials say Senior Trooper Maria Mignano, who was on patrol in the area, also stopped to help, KATU reports.
While all three law enforcement officers were out helping the motorist, they were struck by a passing driver who had fallen asleep at the wheel.
"Senior Trooper Mignano and Officer Hoerauf were killed instantly, Sergeant Burright survived but was critically injured," OSP said.
State police officials attributed Burright's early death to the traumatic injuries he sustained that night and have designated his passing as a "line of duty" death.