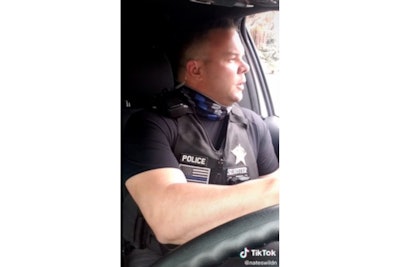 An Idaho law enforcement officer who gained notoriety for his TikTok videos has been fired from his job.
In a Facebook post Thursday morning, Bellevue Mayor Ned Burns wrote that Deputy Marshal Nate Silvester was terminated from the Bellevue City Marshal's Office for "continued policy violations."
According to Burns, Silvester violated "several" city and state policies on policing during the week of May 20. Because of previous policy violations, Silvester had been placed on a "last chance agreement" with his commanding officers.
"He was not terminated for the content of his speech; he was terminated for his failure to follow clearly laid out and well established policy," Burns wrote.
Silvester gained notoriety after a video he posted to TikTok was viewed millions of times. In it, Silvester is in his police uniform and sitting in his patrol car while he criticizes anti-police comment made by NBA star LeBron James by pretending to call James for advice on what to do about a police response, the Idaho Statesman reports.
James tweeted a photo of Columbus, Ohio, police officer Nicholas Reardon after the officer fatally shot 16-year-old Ma'Khia Bryant, who is black and appeared from evidentiary video captured on the officer's body camera to be in the act of stabbing another black woman. In the since-deleted tweet, James wrote, "YOU'RE NEXT #ACCOUNTABILITY." The basketball star was threatening the Officer Reardon with the same fate experienced by Derek Chauvin who was convicted of murdering George Floyd that same day.
Silvester was suspended from the department for several days without pay over the LeBron James video, prompting a GoFundMe fundraiser to raise money for the deputy. As of Thursday, the GoFundMe web page had surpassed $520,000 in donations.