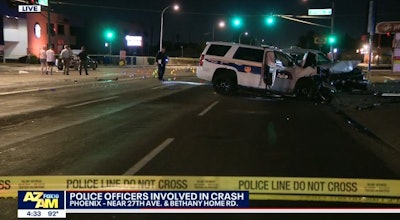 A Phoenix police officer was one of two people who died in a fatal crash at the Cave Creek Road and Greenway Parkway intersection on Monday night.
The officer was identified as 27-year-old Ginarro New, according to police officials.
New was traveling south on Cave Creek Road in a marked police vehicle at about 10:33 p.m. when he entered the intersection at Greenway Parkway, according to police spokesperson Sgt. Ann Justus.
His vehicle was struck when a driver ran a red light at the intersection as they headed east, Justus told AZCentral.
Justus said the force of the crash sent New's vehicle through a block wall and into a parking lot on the southeast corner of the intersection. The vehicle came to rest on its side.
New was pronounced dead at the hospital after succumbing to his injuries.