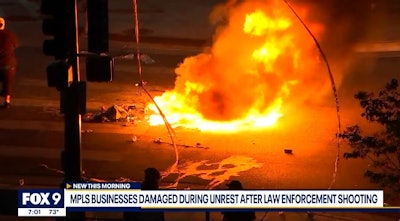 Rioting and looting broke out in Minneapolis Thursday night after a U.S. Marhal Service task force killed a fugitive wanted on a firearms charge who was reportedly a murder suspect.
Fox 9 reports that Thursday around 2:10 p.m., a U.S. Marshal Service (USMS) task force made up of local law enforcement officers were trying to arrest a person wanted on a state arrest warrant for possession of a firearm by a felon, according to a USMS statement.
The suspect reportedly pulled out a gun during the attempted arrest in a parking garage.
The officers then shot at the suspect, the report says. He was pronounced dead at the scene.
No Minneapolis police officers were involved, according to Reuters.
Late into the night, a handful of rioters smashed windows of businesses and looted at least two stores, according to Rebecca Brannon, a local independent photojournalist.