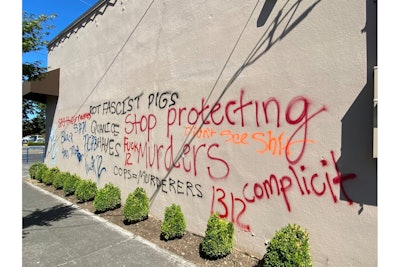 The Portland Police Association has moved its headquarters after a year of near constant vandalism. PPA headquarters were in the Kenton neighborhood of the city, but the building was a "target of vandalism" for Antifa militants and others during the past year of civil unrest.
It was in April that rioters attempted to set the headquarters ablaze. They were reportedly expressing their anger over the death of a man in Brooklyn Center, Minnesota. The arson attempt took place on the second night of rioting in Portland over the death of Daunte Wright, who was shot during a traffic stop, Post Millennial reports.
Local Fox affiliate Fox 12 reported that the new location for the headquarters has not yet been disclosed.
Executive Director Daryl Turner of the Portland Police Association released a statement on Facebook about the move, saying that when they moved into the Kenton area, neighborhood residents were pleased to have them around and felt their safety was improved with police presence. But after the building became a target for vandalism and arson, Turner said their presence in the area was doing more harm than good.