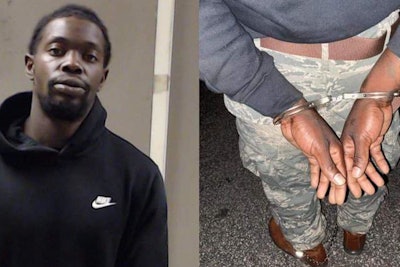 The manhunt for a man accused of shooting a Daytona Beach, FL, police officer in the head last Wednesday night ended Saturday in the Atlanta area with the capture of Othal Wallace.
Police later said at a news conference that Wallace was found in a treehouse on a property outside Atlanta, where he had multiple flash-bang grenades, rifle plates, body armor, two rifles, two handguns and several boxes of ammunition, ClickOrlando reports.
"The property is affiliated with an organization called the... They call themselves the Not F-ing Around Coalition, which is simply known as the NFAC, which is a Black nationalist paramilitary organization," Daytona Beach Police Chief Jakari Young said.
Following the announcement of Wallace's arrest, the NFAC released a statement saying, "NFAC owns no property. Our inquiry into this has revealed that this property is owned by another ex-NFAC member who allowed the local NFAC chapter to train there months ago. We have zero knowledge of the current use by the owner. They are not NFAC members, nor is this property affiliated with this organization."
ClickOrlando reports Wallace was a member of NFAC, although the group's leadership said they terminated his membership in January 2021.
Following his arrest Wallace said, "You guys know who I am. You know what I'm capable of. It could have been a lot worse," according to Young.
The police chief also offered an update on the wounded officer Jason Raynor's condition.
"There were very positive signs of improvement…his outlook is improving," he said.