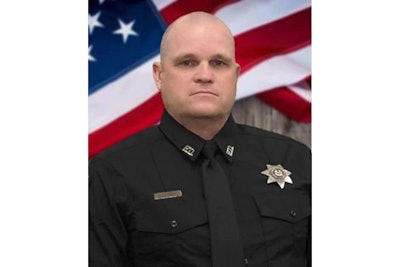 An Arkansas officer was pronounced dead on Saturday after he was run over and dragged by a vehicle that was fleeing other officers.
Officer Kevin Apple and Officer Brian Stamps of the Pea Ridge Police Department heard a call about 11:30 a.m. Saturday to be on the lookout for an older model blue Jeep fleeing from Rogers police. They saw the Jeep at the White Oak station about 12:09 p.m., according to Michael Lisenbee, a spokesman for the department.
They parked on either end of the Jeep, which was parked at the gas pumps and attempted to make contact with the occupants, Lisenbee said.
An altercation erupted, Lisenbee said. The Jeep rammed one of the Pea Ridge police vehicles, then drove over Apple and fled, he said. Stamps fired at the Jeep.
Two suspects have since been arrested, Shawna Rhae Cash, 22, and Elijah Anadoloza Sr., 18, one of whom faces capital murder charges, while the other faces attempted capital murder charges.
The suspects are being held without bond, Arkansas Online reports.