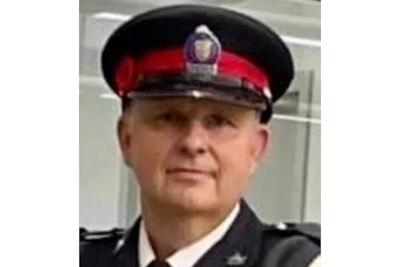 Const. Jeffrey Northrup was killed after being struck by a vehicle in what investigators are calling an "intentional and deliberate act" in the parking garage at city hall early Friday morning, Toronto police say.
Toronto Police Chief James Ramer told reporters at the scene later Friday morning the incident happened shortly after midnight in the city hall parkade.
Northrup and his partner were responding to a priority call when they were struck, CBC reports.
Northrup was transported without vital signs to St. Michael's Hospital, where he died. His partner was transported to the same hospital, where she was treated for non-life-threatening injuries.
A suspect has been arrested.
"We believe this was an intentional and deliberate act," Ramer said.
A police officer for 31 years, Northrup leaves behind his wife, three children and his mother.