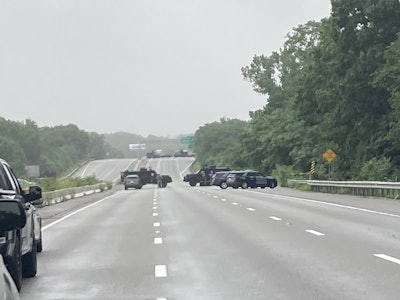 Eleven "heavily armed" members of what has been characterized as a black sovereign citizen group were arrested on a Massachusetts highway Saturday following a nine-hour standoff with law enforcement that included hostage negotiators.
The incident unfolded early Saturday morning in Wakefield, shutting down I-95 in both directions along with a local commuter train service, and leading to shelter-in-place orders in two local communities north of Boston, the New York Post reports.
Nobody was harmed during the incident, which started when a state trooper found the men in a breakdown lane on the side of the interstate refueling their vehicles around 1:30 a.m. and pulled over to assist them, State Police Colonel Christopher Mason told reporters.
The occupants of the vehicle were dressed in military-style tactical gear. Some had rifles, others pistols, according to reports. Additional police were called in to assist the first officer when his requests for documentation were not met, including weapon registrations. The men were traveling from Rhode Island to Maine "for training," police told reporters.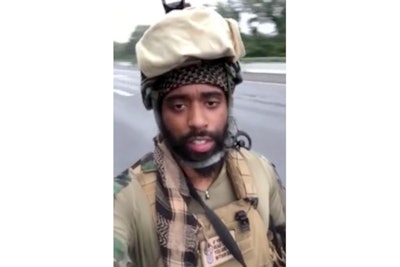 "We were afraid so we got out with our arms," one man claiming to be a member of Rise of the Moors, said in a YouTube video apparently recorded on the side of the highway. The man, who did not identify himself, was dressed in what appeared to be combat gear.
"We're not anti-government. We're not anti-police. We're not sovereign citizens. We're not black identity extremists," the man in the video said. "We haven't violated any laws."
The men claim "to be from a group that does not recognize our laws," the Wakefield Police Department said in a statement. "No threats were made, but these men should be considered armed and dangerous."
According to the Middlesex District Attorney's Office, the suspects have been charged with unlawful possession of firearms and ammunition, among other crimes. Two men are refusing to identify themselves, and a third is an unnamed 17-year-old. The identified suspects are Jamhal Tavon Sanders Latimer, 29; Robert Rodriguez, 21; Wilfredo Hernandez, 23; Alban el Curraugh, 27; Aaron Lamont Johnson, 29; Quinn Cumberlander, 40; Lamar Dow, 34; and Conrad Pierre, 29.
According to the group's website, Rise of the Moors is based in Pawtucket, R.I., and is one of 25 active anti-government sovereign-citizen groups identified by the Southern Poverty Law Center in 2020. Although the number of Rise of the Moors members is unclear, the group's Facebook page had more than 1,000 followers Saturday. On Instagram, it had more than 5,000 followers, and the group's YouTube channel had more than 1 million views.
On its website, the group says "sovereignty and nationality can be considered synonymous," and it considers Moorish Americans to be the "aboriginal people of the land." In a video Saturday morning, an unidentified member of the group disputed the sovereign-citizen moniker, saying, "We are not anti-government. We are not anti-police, we are not sovereign citizens, we're not Black identity extremists."
"They have the idea that they have the authority to essentially detach themselves from the United States," said Freddy Cruz, a research analyst with the Southern Poverty Law Center (SPLC). "So they do things like refusing to pay taxes, get driver's licenses, or register firearms, and they try to get their members to challenge those federal laws," he told the Washington Post.
Other self-identified Moorish sovereigns have been involved in violence in recent years, often targeting government officials and law enforcement. In 2017, Markeith D. Loyd, claiming to be a Moorish sovereign, murdered an Orlando police officer and ran over a county sheriff's deputy while wanted for killing his pregnant girlfriend. Loyd was convicted of first-degree murder in October 2019, and he is set to face trial in the killing of the Orlando officer this year. In 2016, Gavin Eugene Long, an alleged member of the Washitaw Nation, a Moorish sovereign group, ambushed six police officers, killing three with an assault rifle in Baton Rouge, and dying in a shootout with police.