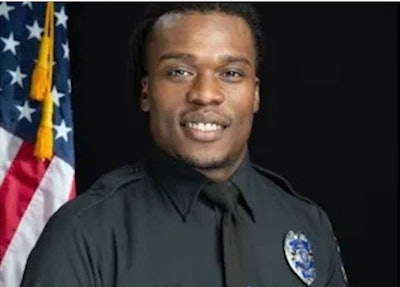 A judge has ruled Joseph Mensah, a former Wauwatosa, WI, police officer, can be prosecuted for the killing of a suspect in 2016. A special prosecutor will be appointed within 60 days.
Milwaukee County Circuit Judge Glenn Yamahiro said Wednesday that there is probable cause that Mensah committed a crime of homicide by a dangerous weapon when he killed Jay Anderson Jr.
Prosecutors declined to file charges against Mensah in Anderson's death. Yamahiro ruled Wednesday morning the case should get a second look under the process known as a John Doe proceeding to decide whether to file charges, WPR reports.
Yamahiro said Mensah could have done several things to de-escalate the situation, including waiting for backup, which was already in-route.
Mensah said he shot Anderson, 25, as he reached for his gun while in his car at a park in a Milwaukee suburb. According to a Milwaukee Police Department report, Mensah noticed Anderson had a handgun in the front passenger seat while the men were speaking.
Mensah drew his weapon and ordered Anderson to put his hands up. Anderson raised his hands, but according to the report "on at least four occasions Mr. Anderson started to lower his right arm while leaning toward the front passenger seat where the gun was located."
The report said Anderson "lunged toward the gun with his right hand" and Mensah shot him five times in the head and once in the right shoulder.
Mensah was involved in three fatal officer-involved shootings while serving in Wauwatosa. He was cleared in all of them by Milwaukee County District Attorney John Chisholm.
Mensah later resigned from the Wauwatosa Police Department and took a job with the Waukesha County Sheriff's Department.