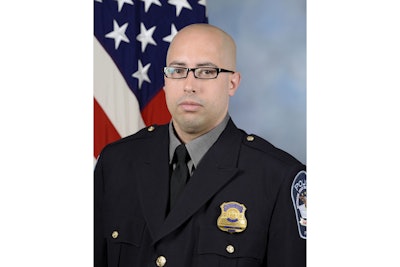 A Pentagon police officer who died after an assailant stabbed him with a knife in a Tuesday morning attack has been identified as George Gonzales.
Officer Gonzales served with the Pentagon Force Protection Agency since 2018 and attained the rank of senior officer in 2020, CNBC reports.
Gonzales was a military and police veteran who had served previously with the Federal Bureau of Prisons, the Transportation Security Administration and United States Army.
The assailant, identified as Austin Lanz, exited a bus at the Pentagon Transit Center around 10:40 a.m. and immediately attacked Gonzales, according to the FBI update posted on Twitter Wednesday.
No motive for the attack has been determined.
Lanz mortally wounded Gonzales by stabbing him in the neck and then shot himself with the officer's gun, according to the FBI. Other officers then engaged Lanz, who died at the scene.
In April, Lanz was also arrested in Georgia on criminal trespassing and burglary charges, and faced an additional six charges that include battery on police and making a terrorist threat, according to The Associated Press.