Family members of Chicago police officer Carlos Yanez, who was shot and critically wounded in the shooting that killed Officer Ella French, have established a GoFundMe page for the wounded officer. The page says Officer Yanez is paralyzed.
At a vigil for Officer French and Officer Yanez, the wounded officer's father Carlos Yanez Sr. told the attending officers and supporters about his experience at the hospital. "I still did not know my son was going to make it. They told me, 'Doesn't look good,'" Yanez Sr. said. "He's got two shots in the head – one in the brain, one in the eye. But he's still fighting. He's still trying to live for his son – 3-year-old son – Carlos III."
The GoFundMe page organized by Officer Yanez' sister and sister-in-law says they expect their brother to be permanently disabled. They also explained why the fundraising was necessary. "We suspect home modifications, accommodations, and transportation needs to increase accessibility and quality of life. He had so much of his face and eye socket fractured during this incident, but thankfully that has been surgically repaired. We remain hopeful for a miraculous recovery but have to prepare for what's to come. We will always pray for the stability of the blood vessels of his brain. Most importantly, we remain with our hearts full of gratitude that he is in fact alive."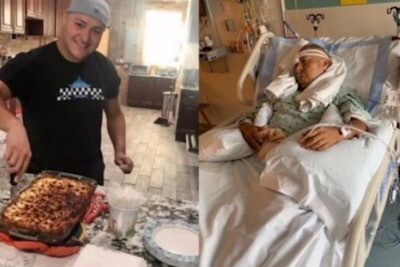 At presstime the GoFundMe had raised more than $160,000.
A third officer, Officer Joshua Blas, who was with French and Yanez shot one of the two brothers now charged in the shooting, CBS Chicago reports.
Emonte Morgan, aka Monte Morgan, is charged with one count of first-degree murder of a peace officer (French), two counts of attempted first-degree murder of a peace officer (Yanez), one count of aggravated unlawful use of a weapon, and one count of unlawful use of a weapon by a felon.
Eric Morgan is charged with aggravated unlawful use of a weapon, unlawful use of a weapon by a felon, and obstruction of justice; accused of trying to dispose of the murder weapon, before he was detained by a group of civilians not far from the scene of the shooting.