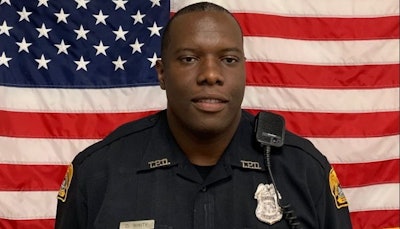 A black Florida police officer who lost his job after being caught saying the N-word multiple times has been rehired.
Delvin White, who was fired by Tampa police in March, returned to work Tuesday after the city's Civil Service Board voted 3-0 Monday that firing the school resource officer for using the slur on two occasions was too harsh, the Tampa Bay Times reported.
White, an eight-year department vet who formerly worked at Middleton High School, was reinstated effectively immediately with no back pay, the New York Post reports.
White was terminated by Tampa Police Chief Brian Dugan after bodycam footage revealed that he used the slur several times on two occasions in November, including during a phone call with his wife. He also used the N-word while arresting a black student at the high school who allegedly refused to leave campus, the newspaper reported.
White, for his part, admitted that using the slur was a mistake, but claimed his "poor choice of words" to the student was an attempt to connect with him. The reinstated officer said he hoped to return to Middleton High School or keep working as a school resource officer elsewhere.