Fallen Officer Jason Raynor of the Daytona Beach (FL) Police Department was honored by his fellow officers and Chief Jakari Young before the running of the Coke Zero Sugar 400 NASCAR race Saturday at Daytona International Speedway.
In addition all cars for JD Motorsports carried Officer Raynor's name above the passenger windows, and his call sign, 3Charlie77, on their roofs during the race weekend, WFLA reports.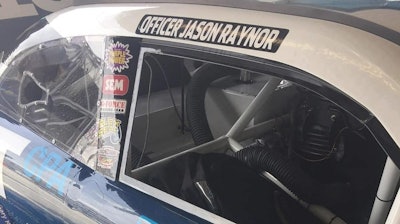 Raynor died on Aug. 17. He was shot in the head and mortally wounded on June 23.
"As a big supporter of our law enforcement officers, it's important that we, as a team, honor Officer Raynor's memory at Daytona. He risked his life day in and day out to protect and serve the Daytona Beach community, and for that, we are extremely grateful. I pray his family and friends find comfort during this difficult time," Johnny Davis, JD Motorsports Owner, said in a statement.