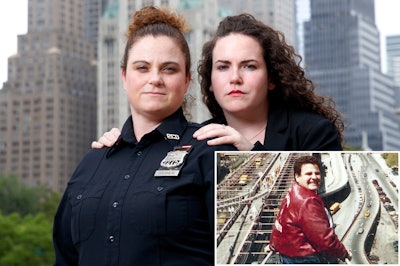 NYPD Sgt. John G. Coughlin, who died while trying to rescue people in the World Trade Center on Sept. 11, 2001, left behind a family legacy.
Daughter Erin Coughlin, who was 16 on 9/11, joined the NYPD in 2012, and wears her dad's badge No. 2275.
Kid sister Kayla, only 6 when their dad died, is now an NYPD video producer. She led the creation of a documentary on illnesses that cops suffered after working at Ground Zero.
Erin married a Police Academy classmate, David Harris, a K-9 officer. His German and Dutch Shepherd partner, "Coughlin" — named for their family's 9/11 hero — lives with the couple.
Erin is the first female NYPD member to become a police officer after a parent's death in the line of duty. "Following his path was always on the back of my mind," she said.
John Coughlin, a 6-foot-2 member of the NYPD's elite Emergency Service Unit, Truck 4, in the Bronx, ran into the blazing South Tower to lead rappelling rescues with a rope and harness. The collapse of the tower killed him at age 43, WMLeader reports.
The Coughlin sisters share a close bond with four others who joined the NYPD after their dads made the ultimate sacrifice on 9/11:
* Sgt. Barry Driscoll, the son of officer Stephen Driscoll — John Coughlin's ESU search-and-rescue partner who was killed at the WTC at age 38. Barry attended Boston University to study international relations, but switched gears after 9/11.
* Officer Jillian Suarez, who was 9 when her father, NYPD transit officer Ramon Suarez, 45, was killed on 9/11. Her father saved an asthmatic woman and then a seven-months-pregnant woman from the North Tower before dying in the collapse. He was posthumously awarded the NYPD's Medal of Honor for his heroism.
* Joseph Vigiano Jr. and his brothers James and John were 8 years, 6 years, and 3 months old, respectively, when their father, NYPD detective Joseph Vigiano Sr., died on 9/11. Their grandfather, the late FDNY Capt. John Vigiano, helped Joseph's widow Kathy, now a retired officer, raise the boys, but so did officers who had worked with their father and mother. "The NYPD became a second family to us," Joseph said.