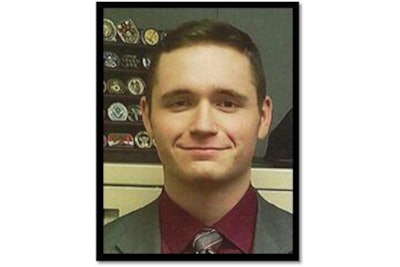 An Independence, MO, officer was shot and mortally wounded Wednesday morning. The suspect was also killed.
Officer Blaize Madrid-Evans, 22, was shot and critically injured while responding to a call about a wanted person. Around 10:45 p.m. Wednesday night, IPD released a statement that Madrid-Evans succumbed to his injuries and passed away.
Independence police told KCTV he'd just graduated from the Kansas City Police Academy this summer and was still completing his field training with Independence police.
The suspect was struck and pronounced deceased. On Wednesday night, MSHP identified him as 33-year-old Cody L. Harrison of Gladstone, MO.
KCTV5 reports that Harrison had a long history of arrests.
He was recently arrested by the Kansas City police for felon possessing a weapon.
He was also facing other charges which include burglary and stealing. He was out on bond.
Harrison has a previous felony conviction involving a weapon. He was convicted in 2011 for shooting at or from a motor vehicle and spent time in state prison.