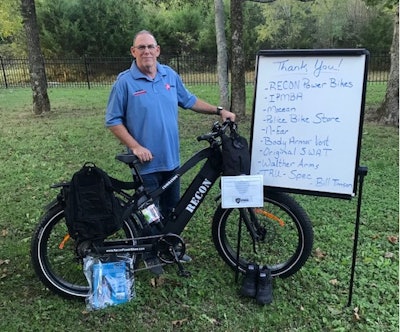 Sgt. Bill Timson of the City of La Vergne (TN) Police Department has been named the winner of POLICE's "Outfit the Bike & Motor Officer" contest.
Timson received gear, apparel, and equipment from AceBeam, Body Armor Vent, N-ear, Super Seer, The Dehner Co., TSSI, Mocean, Original S.W.A.T., Police Bike Store, Walther, and Tru-Spec. In addition, he received a registration to the International Police Mountain Bike Association conference.
The latest POLICE gear contest—Fill the Go-Bag—is now open. Sworn law enforcement officers residing in the U.S. can go to policemag.com/contest and enter to win gear, apparel, and equipment from Steiner, Chinook Medical Gear, Cold Steel, Core Survival, First Line, Haix, Modern Spartan Systems, Mossberg, OTTO, Flying Cross, and Vertx. Contest ends Nov. 30, 2021.