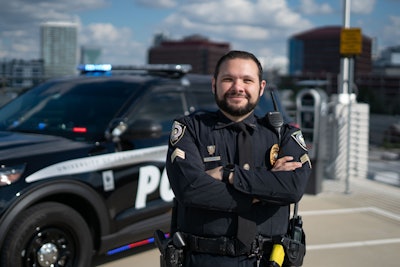 Columbia Southern University (CSU) has named Sgt. Frank Imparato of the University of Central Florida Police Department as its 2021 Outstanding Law Enforcement Professional.
"I am honored to be presented with this award. There are so many excellent law enforcement officers around the country, and I am proud to represent the men and women who put on the badge every day and go out to protect our community and make a difference," Imparato said.
The sergeant has worked at the department for the past decade and earned numerous awards for his efforts including:
University of Central Florida Police, Supervisor of the Year, 2021
Florida Department of Transportation, Drug Recognition Expert of the Year, 2019
University of Central Florida Police, Victim Services Appreciation Award, 2019
University of Central Florida Police, Community Service Award, 2018
Mothers Against Drunk Driving, DUI Instructor of the Year, 2018
Mothers Against Drunk Driving, Deputy Larry Morell State of Florida DUI Officer of the Year, 2017
Mothers Against Drunk Driving, DUI Officer of the Year, 2017
The fight against drunk driving means a great dealt to Imparato who began his crusade after an accident in 2003 while he was working as a 911 dispatcher for the Coral Springs Police Department.
"One night, we received a call referencing a fatal car crash. I had the task of calling a parent of one the teenagers involved and telling them they needed to go to the hospital. I never want to do that again, so now, my mission is to take impaired drivers off the streets in order to make our roadways safer for everyone," he explained.
CSU also selected an Outstanding Law Enforcement Professional runner-up, James Dingus of Coconut Creek, Florida.
Dingus is a CSU alumnus who completed his associate degree in criminal justice in 2019. He is a 20-year veteran of the Coconut Creek Police Department who has worked with his community to foster relations with events such as the "Pizza with the Popo" and "Ice Cream with a Cop." His special enforcement team was named 2020 Team of The Year by the Florida Narcotics Association.
The Outstanding Law Enforcement Professional Award was established as part of National Crime Prevention Month and to recognize CSU's criminal justice students and graduates for their commitment to safety, professionalism and their accomplishments in the field.
CSU was established in 1993 to provide an alternative to the traditional university experience for today's adult learner. The university offers online associate, bachelor's, master's and doctoral degree programs in criminal justice.
For more information on CSU programs, go to ColumbiaSouthern.edu or call (877) 347-6050.