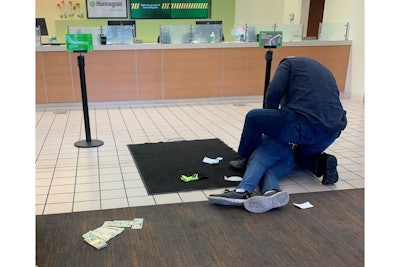 A plainclothes Columbus, OH, police lieutenant who was in a bank on official business broke up an attempted robbery Monday afternoon and captured the 29-year-old suspect, according to Columbus police.
"I heard a commotion go on," the unidentified officer said in an interview released by Columbus police. The officer said he heard the suspect demand money, implying that he had a weapon, Cleveland.com reports.
As the suspect turned around, the officer identified himself. The suspect threw the money down and surrendered, the officer said. Robert Chitwood is now facing a charge of robbery.
"This is what you're trained to do," the officer said. "I mean, this is why you become a police officer is to stop robberies and homicides and everything else. ... Every cop's dream is to be in the right place like this to stop a robbery."