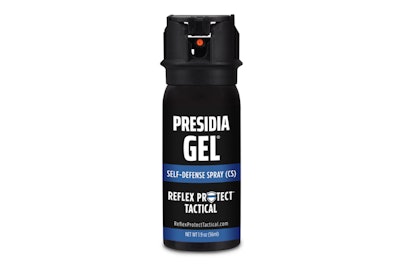 Reflex Protect's recently introduced Presidia Gel a self-defense spray for law enforcement and corrections that offers users 18 feet of effective range.
The less-lethal chemical will immediately shut the eyes of the targeted subject without affecting anyone else, even in vehicles and in cells, Reflex Protect says.
Presidia Gel is not pepper spray. It is a new target-specific, sticky, and rapid-onset CS (chlorobenzalmalononitrile) formulation.
According to the company, Presidia Gel is both safe and effective. Using Reflex Remove, the effects can be neutralized in two to five minutes.
Reflex Protect is headquartered in Missoula, MT, with a law enforcement training partner—Tactical Defense Training—in Canton, OH. The company's products are 100% conceived, designed, and manufactured in the United States.