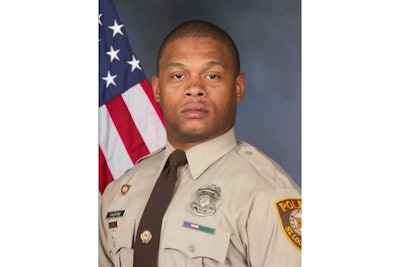 A St. Louis County police detective was killed and another was injured as a result of a two-vehicle crash Wednesday afternoon in north St. Louis County, acting police Chief Kenneth Gregory said.
The deceased officer was identified as Antonio Valentine, 42, who had been with the county department since 2007. Gregory said the other detective who was with Valentine was treated for minor injuries and released. His name was not released, St. Louis Today reports.
A man driving a Volkswagen Jetta that collided at a high speed with the two officers' unmarked Dodge Caravan also died, department spokesman Sgt. Tracy Panus said in a statement released Wednesday night.
Panus on Thursday identified the driver of the Jetta as 33-year-old Alfred Mayes of St. Louis.
She said county drug unit detectives in a separate vehicle from the one driven by Valentine were conducting an investigation and had attempted to stop the Jetta, which instead sped away. Valentine and the other detective in the Caravan were about a mile away, and responded to the area. The detectives' Caravan and the Jetta, still speeding, crashed into the van, Panus said.