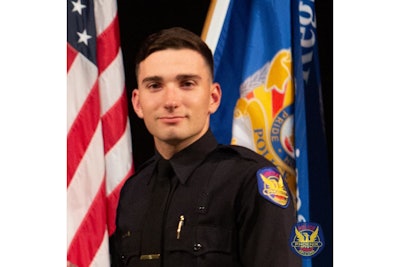 Phoenix Police Officer Tyler Moldovan was shot eight times, including once to the head, according to court documents acquired by Arizona Family. As of Wednesday morning, Officer Moldovan remains on life support at a Phoenix-area hospital.
Police were first called out to reports of vehicles speeding and doing "donuts" just after 2 a.m. Tuesday morning.
Callers reported that a Black Dodge Charger and a White Dodge Challenger were the vehicles involved. Officers showed up to find skid marks and smoke in the air but they weren't able to find the vehicle.
A few moments later, police were able to find a Black Charger pulled into the parking lot, where a man, now identified as Essa Williams, was seen jumping the fence into the complex, leaving his vehicle. Court paperwork says that the vehicle had a gun case inside.
An officer spotted Williams and asked him if he had any weapons and he said no. At that point, he pulled a handgun from his waist and shot officer 22-year-old Tyler Moldovan approximately eight times, including to his head. The Court paperwork says Moldovan fell to the ground and was unresponsive after the first shots were fired.
Officer Moldovan fell to the ground and the suspect continued to fire gunshots at him "while he was lying on the ground unresponsive," police say.
After the shooting, Williams allegedly tried to pull Moldovan's handgun from its holster. Another officer then ran up to the shooting scene, Fox 10 reports from the court documents.
"As the second police officer ran towards the scene of the shooting, the male subject saw the police officer running toward him and yanked harder multiple times on the victim officers handgun trying to pull it out of the holster as the second officer was running toward him," read a portion of court documents.
Williams threw himself to the ground but resisted arrest, according to the court documents. Another officer ultimately made it to the shooting scene and Williams was taken into custody.