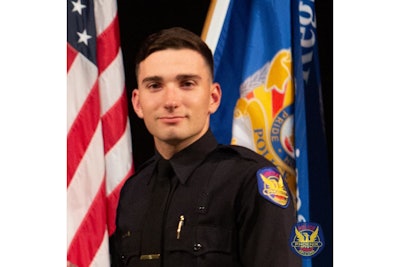 A Phoenix police officer was rushed to the hospital after being shot early Tuesday morning.
The department reports on Facebook that Officer Tyler Moldovan, 22, "was assisting with the search (for a suspect) at an apartment complex when he encountered the suspect who shot him multiple times."
Moldovan is in critical condition at a local hospital "fighting for his life," the department reports.
In a press release Tuesday afternoon, Phoenix Police Sgt. Vincent Cole, says after 2 a.m. officers received multiple calls about vehicles driving erratically near 19th Avenue and Camelback Road. Officers located a car matching the description with a vehicle parked in an apartment complex near 15th Avenue and Camelback. Cole says no one was in the car so officers started to search the area.
"Officer Moldovan found the suspect hiding behind a short wall of an apartment patio. Officer Moldovan began giving commands to the suspect, who then pulled out a gun and began shooting. Officer Moldovan was struck by multiple bullets."
Phoenix Police Chief Jeri Williams said no officers fired any of their weapons and homicide detectives are on scene piecing things together. The investigation is in the very early stages, AZFamily reports.