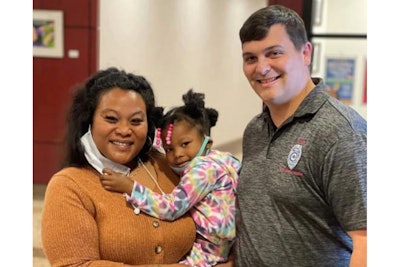 A North Charleston, SC, police officer was reunited this week with a young girl he saved from choking back in 2019.
Patrolman First Class Jerrid Riley was surprised when McKenna Delarosa and her mother stopped by the station, Live5 reports.
The three last crossed paths on the evening of Oct. 9, 2019. As Riley was headed back to North Charleston Police headquarters, he noticed a car driving erratically and heard the driver honking her horn.
He made a traffic stop. "Before I put my car in park, the mom and the passenger jumped out of the car, was running back to my vehicle screaming 'My child can't breathe, she can't breathe.' And then I just relied on my training at that point," Riley said a week after the incident.
McKenna, then 19 months old, was choking on food. Her mother was trying to get the child to a hospital when she spotted the police officer and got his attention.