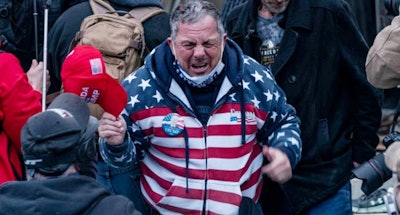 A Florida man was sentenced Friday to just over five years in prison for assaulting police officers during the Jan. 6 riot at the Capitol.
Robert Palmer, 54, of Tampa, was charged with repeatedly assaulting police officers on the Capitol's Lower West Terrace. Prosecutors said he threw a wooden plank at the police, then picked up a fire extinguisher and sprayed its contents at a line of officers, throwing the canister at them after it was empty.
A few minutes later, prosecutors said, he picked up the fire extinguisher and threw it at them a second time and assaulted another group of officers with a metal pole, throwing it like a spear. He stopped the attack when an officer shot him in the abdomen with a rubber bullet, NBC reports.
"Those officers were so brave standing there, just taking all the stuff that people were giving them, all the taunts, all the jeers and everything," Palmer told the judge before he was sentenced.
"I am so ashamed I was part of that. Very, very ashamed," he said.
Palmer was one of the first to turn himself in to the FBI shortly after the riot. He pleaded guilty in October.