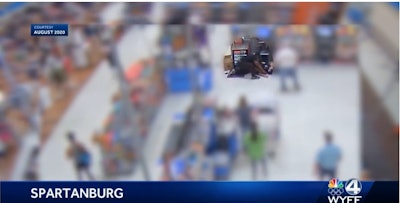 Spartanburg County, SC, leaders honored a group of local citizens who helped a local police officer fend off a life-threatening attack.
Officer Erin Hansen told WYFF after the August 2020 attack he was working off-duty at the Walmart, but in police uniform, when the attack happened.
James Ray Cunningham, 23, pleaded guilty to attempted murder, possession of a weapon during the commission of a violent crime, third-degree assault, and battery, hit-and-run for the Aug. 20, 2020, attack at the Walmart.
Cunningham was sentenced Monday to spend decades in prison for attempting to kill the officer, WYFF reports.
"We had citizens who not only said something but did something, they prevented him from further injury and possibly the loss of his life and for that officer, Hansen and his family and his Spartanburg Police Department family are eternally grateful," said Chief Alonzo Thompson of the Spartanburg Police Department.
Thompson said in total, nine people helped during the attack. Four were honored Monday for going above and beyond to help Hanson.