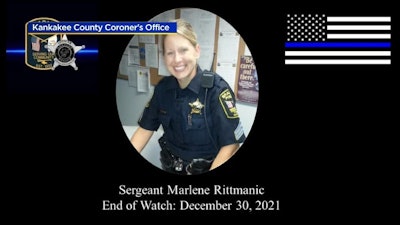 The Kankakee County (IL) State's Attorney's office on Monday asked the federal prosecutors to review the cases against two defendants charged in a shooting that killed one Bradley police officer and wounded another, and also asked federal prosecutors to pursue a federal death sentence.
Darius Sullivan, 25, and Xandria Harris, 26, both stand charged in the Wednesday night shooting that killed Bradley police Sgt. Marlene Rittmanic, 49, and wounded critically wounded her partner, Officer Tyler Bailey, 27, CBS Chicago reports.
On Monday, Kankakee County State's Attorney Jim Rowe submitted an official request to the U.S. Attorney for the Central District of Illinois to review the first-degree murder cases against Sullivan and Harris for possible federal charges, and to pursue a federal death sentence for both defendants.
Kankakee prosecutors will seek life sentences on the state charges against Sullivan and Harris, They are charged with first-degree murder of a police officer and attempted first-degree murder of a police officer, among other counts.
In a proffer, Kankakee prosecutors said that Rittmanic and Bailey had been called to the hotel for a complaint about barking dogs that had been left in a guest's car, prosecutors said.
Rittmanic and Bailey went upstairs to Harris' room after running the plate on her car. They had the intention of issuing a ticket for a local noise ordinance violation because of the barking dogs, and to arrest Sullivan on outstanding warrants, prosecutors said.
The officers first knocked on the door of room 308, but there was no answer. When officers knocked again, Bailey announced it was the police, and said they needed to address the complaint about the dogs. Harris said from behind the door that she would be coming out of the room, prosecutors said.
After 14 minutes, Harris opened the door to the hotel room, prosecutors said.
Sullivan then shot Bailey in the head, and fired a first shot at Rittmanic as she tried to get out of his range, prosecutors said.
Sullivan then chased Rittmanic down the hallway and pinned her up against a door, prosecutors said. His gun became jammed at that point, and he began trying to unjam his own gun with his left hand while also trying to disarm Rittmanic with the other, prosecutors said.
He was able to take control of Rittmanic's duty pistol, according to prosecutors.
Sullivan and Harris then stood over Rittmanic as she lay on the floor. Sullivan then fired multiple shots at Rittmanic from what was believed to be her own weapon, prosecutors said.
"Sgt. Rittmanic was pleading with them just to leave, you don't have to do this, please just go, please don't, she was desperately pleading for her life," prosecutors said.
Rittmanic died that evening. Bradley remained in critical condition Monday.
Sullivan was captured Friday in Indiana. Harris surrendered to authorities.