A manhunt is underway in Kankakee County, IL, after one police officer was killed and another was critically wounded in a shooting Wednesday night at a hotel in the village of Bradley.
Around 9:40 p.m. Wednesday, Bradley Police responded to the Comfort Inn hotel after a call about dogs barking in an unattended vehicle in the parking lot.
Police said the officers located the vehicle and the possible owner inside a hotel room. Both officers were shot after trying to talk with the people inside the room, Bradley police confirmed.
Bradley Police Sgt. Marlene Rittmanic, 49, died at the hospital. Officer Tyler J. Bailey, 27, was critically wounded, CBS Chicago reports.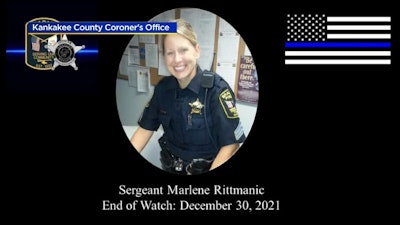 Police said an arrest warrant was issued for 25-year-old Darius Sullivan in connection with the shooting, NBC Chicago reports. They are also looking for another person of interest believed to be involved in the case.
A $10,000.00 reward is being offered for information leading to an arrest.