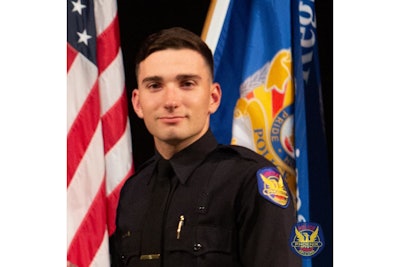 A Phoenix police officer continues to fight for his life nearly two weeks after he was shot several times in the line of duty, according to KVOA.
Back on Dec. 14, 22-year-old Tyler Moldovan and a group of officers were following 24-year-old Essa Williams who was driving erratically at an apartment complex.
Williams opened fire and struck Moldovan eight times, police say.
Maricopa County Prosecutor John Schneider said in an initial hearing that Williams is seen on body-cam footage shooting Officer Tyler Moldovan, Arizona Family reports.
"Mr. Williams is on video shooting the victim police officer multiple times. He continued to shoot the officer even after the officer was on the ground. He fought with police officers when they attempted to apprehend him," he said.
Charging documents show Williams is facing first-degree attempted murder of a law enforcement officer, possession of a weapon by a prohibited person, resisting arrest, and attempted aggravated assault of an officer.