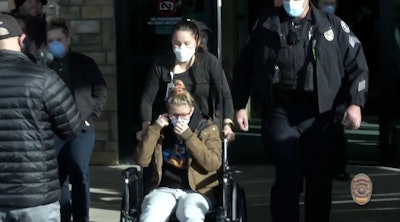 Lakewood, CO, Police Agent Ashley Ferris who was seriously wounded in a gunfight with a suspected spree killer on Dec. 27 was released from the hospital Thursday.
The suspect reportedly killed five and wounded several others including Agent Ferris in the Denver and Lakewood attacks.
Ferris confronted the suspect in Lakewood and ordered him to drop his gun. "The suspect ignored her commands and shot Agent Ferris, striking her in the abdomen. Agent Ferris, shot and wounded on the ground, was able to return fire on the suspect. The suspect was shot by Agent Ferris and died on scene," the Lakewood Police Department says.
Thursday Agent Ferris was cheered by fellow officers and hospital staff as she was rolled in a wheelchair to a waiting vehicle.
The Lakewood PD says she faces a lengthy recovery, CBS Denver reports.
"If not for the heroic efforts of Agent Ferris and other law enforcement, this incredibly violent tragedy could have been even worse. Today Agent Ferris was released from the hospital with the support of her family and her family at the Lakewood Police Department. Thank you Agent Ferris. You're our hero," the department said on Facebook.