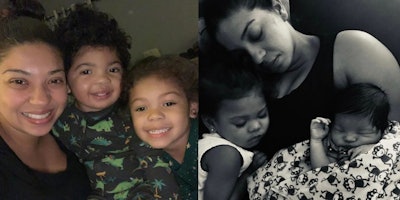 The Tunnels and Towers Foundation has paid off the mortgage for the family of a Charlotte-Mecklenburg officer who was killed days before Christmas in a crash on I-85.
Officer Mia Goodwin was killed in a crash involving a tractor-trailer while she was working at a crash scene early on the morning of Dec. 22. She had just returned to duty following maternity leave.
The CMPD has charged Daniel Morgan with several charges following the crash, including involuntary manslaughter, after police say he failed to reduce his speed and move a lane over while Goodwin was on the scene of a crash, WBTV reports.
Officer Goodwin's husband, Brenton, serves as a Charlotte firefighter.
"This is a family of first responders, a husband and wife dedicated to serving and protecting their community. It is now our turn to step up and do the same for them. I was honored to tell Brenton that he will be able to stay in the home their family shared forever without the financial burden of a mortgage," said Frank Siller, Chairman and CEO of the Tunnel to Towers Foundation.