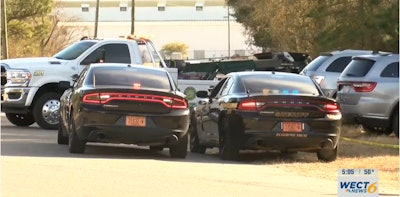 Two of three men who escaped from a jail in Sullivan County, TN, last Friday died after fleeing police in North Carolina following the robbery of a convenience store. Wednesday, the Sullivan County Sheriff's Office confirmed that escapees Tobias Carr, 38; and Timothy Sarver, 45; died in the North Carolina incident.
A State Highway Patrol trooper originally said the men died of self-inflicted gunshot wounds; however, a spokesperson for the agency said the trooper misspoke and instead deferred to the State Bureau of Investigation, which has not released a cause of death, reported WECT.
The Onslow County (NC) Sheriff's Office responded to an armed robbery at the Speedway Convenience store in Sneads Ferry around 4:30 am Saturday. The clerk at the store reported that two males entered the store and robbed the clerk at gunpoint, WWAY reported. The suspects tied the clerk up and left after stealing money from the register and safe. The suspects then fled the scene in the clerk's car.
North Topsail Beach Police Department responded to the incident as well. Officers tried to stop the vehicle, but the suspects refused to stop and a chase began. Multiple agencies assisted in the chase as it went through Onslow, Pender, New Hanover, and Brunswick Counties. The chase ended when the vehicle crashed in Brunswick County.
Carr, Sarver, and Johnny Shane Brown, 50, had escaped from the Sullivan County Jail last Friday by climbing through the air vents, according to the Sullivan County Sheriff's Office. Brown is still at large.